So many private businesses are selling, it's harder for independent companies to compete against them.
Introduction
Selling a private business can be one of the most important and difficult decisions of an Owner's career and therefore must be carefully weighed and measured against all alternative options. While there are many factors every business owner must take into consideration when contemplating this potential opportunity, one of the most important factors is the viability of an independent company in the current market environment. One trend that has highlighted this consideration for many independent operators is industry consolidation. As small businesses in a certain region or industry begin to consolidate, it can create a competitive disadvantage for the remaining independent businesses as larger well capitalized firms enter the market and compete. While this scenario could be problematic, it also creates an opportunity for owners to consider selling their private business.
The Rollup Strategy
Over the past decade, the market has experienced strong M&A activity across numerous industries. A key driver in this M&A uptick is the rollup strategy employed by Private Equity firms and Corporations alike. According to PitchBook, in 2012 the total Private Equity M&A spend was $390 billion, which has more than doubled to over $1 trillion in 2022.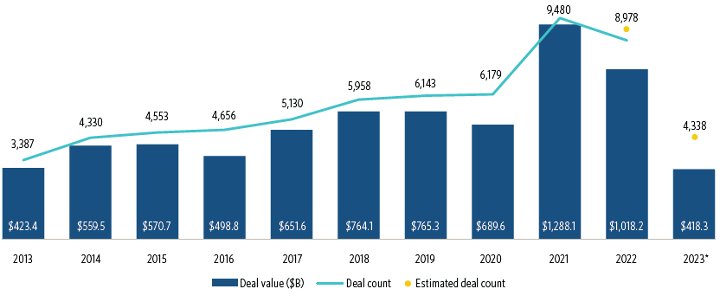 The goal of the Private Equity rollup strategy is to consolidate firms within the same industry, or related industries, with the intention of capitalizing on the economic benefits offered by these combinations. In addition, having back-office support of a larger organization allows the business owners to focus on the growth of the business and not managing HR, IT, payroll, etc.
This consolidation of companies across industries within markets has created stiff competition for independent companies. As companies from the same industry consolidate, they are able to take advantage of the benefits of economies of scale, such as lower costs for supplies due to purchasing in larger quantities, reduction of headcount due to redundant positions, and easier access to growth capital from either ownership groups or financial institutions. These benefits create material competitive advantages for the consolidated companies as these firms enjoy increased flexibility on pricing as well as a higher budget for efforts such as marketing and customer support.
Options for Owners
As market environments shift with the entry of larger consolidated entities which possess the ability to deliver a quality product at a lower cost to the consumer, independent businesses must assess what the best course of action is going forward. Owners must determine if they want to continue with their business as it stands and compete with these new companies, or if they are better suited to pursue an M&A based strategy for growth and expansion.
While competing directly with these larger companies is an uphill battle, it is not an impossible one. Some independent companies are able to leverage their brand equity, as well as personal relationships with both the customers they serve and the suppliers they have longstanding history with, to maintain profits and even grow over the long term. With that said, these success stories come at a high cost in terms of both time and capital for owners and occur far less frequent than the success of the larger firms.
An alternative opportunity which owners can choose to pursue is growth through M&A activity. This could involve the purchase of other firms to bolster the size of the business, but this is an expensive and complex endeavor. Completing an acquisition is one thing but integrating that business into your existing business is another. Experienced investors have full departments dedicated to integration whereas small business owners typically do not.
Another way to harness M&A for the firm's benefit is to consider the sale of the business to either an existent consolidated company in the market or to a new entrant looking to pursue a similar strategy. If the rollup activity is strong in the industry and/or region, there is likely an opportunity to capitalize on higher purchase prices and competing offers. Combining a business with others to create a competitive advantage can level the playing field and offer new and exciting growth opportunities for independent companies.
Conclusion
A market shift towards consolidation can be a scary time for an independent business owner, with increased competition from larger companies causing an array of concerns. While this could lead to a loss of income and market share for independent companies, it can also highlight an opportunity in the market for a business to enjoy a higher price at which to sell the company. Owners must carefully analyze the current market environment including the company's ability to compete with larger firms, future risks to the business, and what growth opportunities exist in this altered landscape. Based on this analysis, companies should determine what strategy offers the best chance for a successful outcome and proceed accordingly to counteract these market changes.