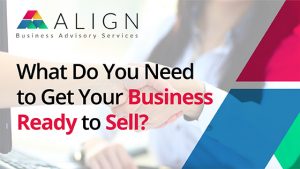 Are you thinking about selling your business? It's crucial that you consider having an exit strategy and be ready to move and react to opportunities quickly.
When you want to sell a business, taking the time to plan and having an exit strategy will make a huge difference in not only how much you get for your business. It will also ensure that the transaction goes smoothly and as quickly as possible.
Unfortunately, many business owners aren't aware of the necessary steps involved in selling a business, so they get easily overwhelmed by the process.
3 Things You Can Do to Get Your Business Ready to Sell
If you are gearing up to sell a business, make sure you are taking adequate steps to prepare the entire entity for a smooth transition.
Not quite sure what those steps maybe? Here's a quick checklist to get you started.
1. Enlist the Help of a Business Advisory Service
One of the first steps in selling a business, especially for those who are inexperienced in all that is involved, is investing in a third-party advisor – otherwise known as M&A business advisors. These individuals will help you figure out ways to restructure your company to improve its overall salability.
While there's no one way to ensure maximum value, an M&A advisor can provide the following services:
Business valuation
Strategic planning
Exit planning
Financial planning and analysis
2. Know How Much Your Business is Worth
If you're working with an M&A advisor, you're already a step ahead. This is because one of the services they provide is a complete business valuation , which is the process of determining your business's economic value.
Determining how much your business is currently worth will require a few critical pieces of information, including your:
Current assets – This is defined as anything that physically adds value to your business and will include tangible assets such as inventory or real estate property.
Intangible assets – This involves non-physical items that add value to your business, including your brand reputation, patents, copyrights and or trademarks, etc.
Earnings before Interest, Taxes, Depreciation and Amortization ("EBITDA") – Valuation starts with an analysis of your EBITDA for the past 1-3 years.
You'll also want to consider outlining your current business plan/strategy to help further define your assets, such as your customer base and the tools utilized to maintain customer engagement.
3. Work with an Accountant
As a business owner, you already understand the importance of having the right accounting software or access to a licensed accountant to help you manage your finances. However, to get the most for your brand and ensure the smooth transition of the purchase, you need to work with a skilled accountant. This is something many small business owners looking to sell a business don't understand.
Today's market is relatively soft, and buyers want as much transparency as possible. To achieve this, owners can avoid red flags by working with an experienced accountant. You want to provide clean financial statements and tax returns going back at least three years. If you don't want to add this type of resource on a permanent basis, there are many firms that offer Fractional Controller or Chief Financial Officer ("CFO") services on an as-needed basis.
Selling Your Business with Align Business Advisory Services
When looking to sell a business, many small and medium-sized business owners don't truly understand all that is involved.
It's not as simple as putting your business on the market and hoping the best buyer comes along. Enlisting the help of an M&A advisor, such as Align Business Advisory Services, ensures your brand is not only ready to sell – it also ensures the process goes as smoothly as possible for all parties involved.
Take the first step toward creating a solid exit strategy today.
Contact us today to see how Align Business Advisory Services can help you through this process!