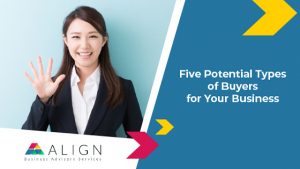 After years of hard work, you decided it's time to sell your business. Undoubtedly, you will want to complete the transaction in a way that does justice to the effort you put into growing a successful company. Selling your business is a big step, and it will be essential to understand who the potential buyers are and how transactions with those buyers may differ.
There are several common categories of buyers of businesses that earn between $5 and 100 million in revenue. Different buyers may offer various benefits or drawbacks. Below are some common types of business buyers that might take an interest in your company. The transactions can involve complicated technical processes, so hiring a company that will perform business advisory services will improve the chances of a favorable outcome and let you feel confident about your decision.
1.Relatives and Friends with a Connection to the Business
If your business is a smaller family company, then you might have loved ones who are eager to keep the business running after you leave. In some cases, selling the business to a family member who understands the market and is enthusiastic about taking over will be a great way to exit.
Unfortunately, there may be hurdles to this plan, including if the family member lacks the resources to buy your business. You may also want to be sure that the person has the skills and work ethic to continue to run the company.
2.Competitors Already Occupying the Same Space
A competitor may want to take over the business and might be a good option for selling to someone who knows how to operate in your field. Your competitor may also have a solid understanding of how much your business is worth. These buyers may be willing to pay because they know that the deal will help them expand and increase their profits.
When engaging in a deal with a competitor, it is wise to be cautious about the information you share during negotiations.  Do not give away company secrets to the competition just to learn that they were feigning interest as a way to glean information about how you run your business.
3.Individual Buyers Pursuing Dreams
An individual buyer may come from the corporate world and look at your business as a way to own and build something for themselves. If the buyer has the funds to purchase the business and the know-how to take over and make the company thrive, this option might prove best. However, if the person is only setting out as a dreamer and not ready to take on the work involved, they may not be able to keep the company going after your exit.
4.Owners of Similar or Related Businesses
A synergic purchase, or merger and acquisition, might be the right move, especially as these buyers may be eager to complete the deal to grow their existing business. Suppose your business and the buyer's business use similar resources, and the purchaser can expand their market. In that case, the deal might be extremely attractive to the buyer and therefore place you in a favorable negotiating position when you sell your business.
5.Financial Buyers
These buyers can be more challenging to work with as they enter the agreement with a lot of leverage and commonly have a long list of requirements and demands. A financial buyer may be part of a Private Equity Group aiming to build the business and then sell for a profit a few years down the road. However, in the right circumstances, such agreements might work in your favor.
Tips for Exiting Your Business
Remember that the process of finding a buyer and turning over operations will likely require time.    When you begin your business exit planning, consider the following:
Prepare Documents: You do not want to get into an arrangement where you indicate that you are ready to sell a business but have to ask for weeks to prepare all of the documents once someone expresses an interest.
Clean Up Business Records: If your bookkeeping is messy or your files are not in order, this might discourage a buyer.
Keep Running the Business: The operations need to continue for the business to have value.
Draft a Letter of Intent: A detailed LOI can help ensure that a potential buyer understands your terms rather than chipping away at the deal throughout negotiations.
Take Care of Liabilities: If you owe debts or taxes, make sure you address those liabilities before they impact your attempt to sell.
Make Plans for Yourself: Be sure that you have a budget and plan for your life after selling your business.
Find a Business Advisor
If you have questions about potential buyers for your business, you should schedule a consultation with an experienced business advisor. Align Business Advisory Services works with companies to complete middle-market business transactions. Our skilled advisors can guide you through this process and help ensure a smooth transition.
Contact Align Business Advisory Services today to learn more about potential buyers and create your business exit plan.