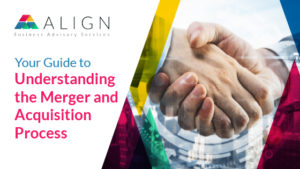 So you have a business that you want to take to the next level, but you're just not sure how. Selling your business can be daunting and at times nerve-wracking. It's imperative that you make the right decision when considering which company you're going to sell it to.
Whether you're a first-time seller or have been around the block, being at ease while figuring out what works best for you comes first. At Align Business Advisory Services, our mergers and acquisitions team is here to help make everything run smoothly while maximizing the value of your business.
Your guide to understanding the mergers and acquisitions process is just a few scrolls away.
What Does "Mergers and Acquisitions" Mean?
Before getting into the process, you first need to have an understanding of what the term "mergers and acquisitions" means.
A merger is an agreement where two companies combine their assets and continue as one company. In contrast to a merger, an acquisition is when one company buys another company as well as its assets.
Whether you decide to sell or partner with another company, it's important that you understand both of these terms before entering into any agreement.
Good Things Take Time
You're probably wondering how long the merger and acquisition process will take. When it comes to selling a business, it can take some time. The process can last anywhere from six months to several years. This, of course, depends on how extensive the deal is.
It can be helpful to plan, track, and figure out a closing date for tracking purposes. Nevertheless, you should understand that delays are inevitable, so be sure to allow for extra time in the process. While it's good to always be on track, sometimes schedules change.
Merger and Acquisition Benefits
Even though deciding on your business's future can be overwhelming, there are a lot of positives to consider. Some of the many benefits of a merger or acquisition deal include:
Enhancement of the company's competitive position in the market
Improvement of financial performance and profitability
Enhancement of business relationships
Expanded offering of products and services
Heightened brand recognition
Increased capacity at a lower cost
Steps in the Merger and Acquisition Process
Now that you're familiar with the benefits, it's time to go through the process. Here are the steps you'll need to take to complete a merger or acquisition:
1. Analysis
The first thing you'll want to do is to analyze the industry, market, competitors, and comparable transactions. That way you'll get an understanding of what you have to work with and if your goals for your business are obtainable.
2. Kickoff
You'll need to develop both a strategy to give an idea of what to expect and gain and key criteria when determining the direction you want the company to go in. By defining your company value and the overall preferred outcome, you'll be putting yourself in a much better position.
3. Target List
Once you have your research and criteria set, you can then move on to developing a list of prospective acquires or investors for your company to look into.
4. CIM
You will then want to develop marketing materials which include a CIM (Confidential Information Memorandum) document and teaser. These documents are meant to generate interest in the investment's target market.
5. Marketing
Your company will send the teaser to the target list where you can begin to engage with interested parties.
6. Confidentiality
Once interest has been reciprocated, you will then execute the MNDA (Mutual Non-Disclosure Agreement) with prospects and give them the CIM.
7. Initial Meetings
You will then meet with potential prospects and help develop further interest in investing. The purpose of initial meetings is to obtain more information and to see how good a fit the company is to yours.
8. Management Meetings
The prospective investors will then have their own meeting with the client management. The purpose of management meetings is to learn more about the companies' intents, needs, and proposed offerings.
9. Offers
After the meetings are well underway, you will start to solicit offers from interested parties. Those parties will send you a letter of intent (LOI). In the letter, they will express their interest in pursuing a merger or acquisition and provide a summary of the deal. LOIs may be received from more than one potential bidder depending on the interest.
10. Negotiation
Once you have received bids from all interested bidders, it's time to negotiate. Remember to refer back to the strategic intent made at the beginning of the process and evaluate offers and refine terms as needed.
11. LOI/Exclusivity
Buyers and sellers will begin to work together to make a final deal. Once the deal is made, you will be locked into an exclusive deal with the buyer. No other negotiations can be made with other potential buyers once this is done.
12. Due Diligence
Once the offer is accepted you will then begin the due diligence process. This is an examination and analysis in detail of every aspect of the target company's operations. These include human resources, assets and liabilities, customers, financial metrics, and more.
13. Definitive Agreement
You will then work with attorneys to finalize the purchase or investment agreements between the companies.
14. Closing
Once the definitive agreement has been signed, the deal is closed. You will then wire the funds and the change of control is complete. You will have successfully either merged with or been acquired by another company.
We Can Help Guide You Through the Process
At Align Business Advisory Services, our team provides comprehensive merger and acquisition advisory services.
These include:
Transaction Advisory
Business valuation
Quality of earnings
Exit planning
Strategic planning
Financial planning and analysis
Financial reporting
Take Your Business to the Next Level
Selling your business has never been so easy. With this proven step-by-step process, you're guaranteed to succeed with Align Business Advisory Services by your side.
Want to know how you can get started today? Visit Align Business Advisory Services for more information and to get a consultation.