Education Technology ("Ed Tech") Investment Robust in 2018, and the trend continues into 2019.
At the start of this decade, the education industry saw hundreds of flowers bloom. Launched from garages and tech accelerators, startup after startup burst onto the scene with technology tools for the education market. The industry has since consolidated, due in part to an uptick in mergers and acquisitions by education companies and private equity firms.
Education M&A activity is occurring at a steady pace. There is currently an opportunity for acquirers to take advantage of the digital adoption in education and the potential to create new pathways for instruction and credentialing.
In 4Q18, approximately $4.9B of transaction volume in Ed Tech sectors were announced, with Private Equity investors leading the pack with 53% of the deals transacted during the quarter. Companies focused on the K-12 sector comprised approximately 48% of the transactions, and online learning providing approximately 26% of the activity. *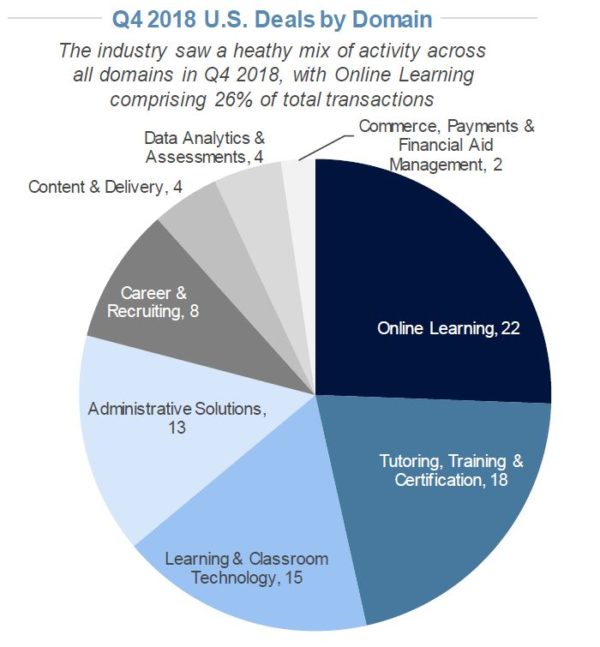 Among many sectors, demand is strong for companies that provide solutions and services for professional education, English language training, and childcare. Moreover, the rapid adoption of e-learning technology and the growing training needs of the existing corporate workforce has led to a significant increase in corporate spending on outsourced training resources per employee.
In the K-12 sector, technology investments are having an impact on state and school district expenditures. Other areas of interest include hybrid student information systems and digital content and tools, learning platforms, and data reporting and analytics.
Acquirers throughout the education landscape are also looking for adaptive learning solutions. This includes software that facilitates testing and measurement. In the context of gains in online testing and assessment, automatic scoring and grading of essays are likely to develop more rapidly. This follows the shift in many instances from live, in-person instruction to more of a Software as a Service (SaaS) model that emphasizes online or blended learning.
Unsurprisingly, there has been considerable investment in companies with new assessment products given the high growth and high profit nature of this sector. Taken as a whole, the flourishing investment levels for early stage education companies should provide a fertile ground for future partnerships and M&A activity.
The large strategic players in the industry are the diversified education companies who are steadily moving away from print and becoming more heavily focused on digital and services. Meanwhile, part of the role that private equity firms play in the sector is to create and grow companies of scale, which the strategic players often see as attractive acquisition opportunities due to the larger size. An influx of private equity capital creates an environment that allows acquisitions by strategics to be more prevalent and impactful to the organization. This has occurred throughout the last several years.
Lastly, as the migration to digital formats and delivery progresses, the potential for transformation in the industry that is succeeding at the post-secondary level should continue to be substantial in many of the education sub-sectors.
*Source: Raymond James, EdTech Insights, Q42018; Pitchbook Transaction Data as of 2/21/19; Berekery Noyes, An Overview of M&A in the Education Industry, April 2018.