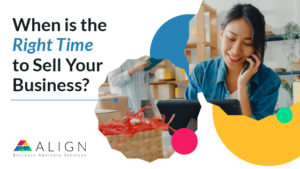 Are you planning to sell your business, but are unsure if it is the right time for an exit?
Most business advisory companies encounter questions about this when working with business owners. On countless occasions, entrepreneurs who have dedicated years to growing their business fear they will make mistakes at their final exit.
Determining Factors to Consider Before Selling your Business
You may be considering passing your business on to the next generation or investing to expand. This may make you – and many others in this same situation – feel consumed by uncertainty and doubt. These are common thoughts to have.
To help you decide if now is the right time to sell your business, here is a list of six factors that will help you to discover the right moment.
1. Get in a Positive State of Mind
First, analyze your present economic situation's impact on your mentality. Long-lasting decisions – like selling your business – may be influenced by your present, economic, and psychological state, which could lead to pain and regret if the best options are not properly reviewed.
Selling your business is stressful. Make sure you are staying positive and hopeful when you think about your reasons and discuss your options. It will help you to pay attention to every detail and make decisions that are best for you and your business in the long run.
In extreme cases, your feelings could be related to burnout. According to a survey done by Gallup, among 7,500 full-time employees, 23 percent claimed to always or very often feel burned out at work.
Burnout can emerge from the consistent struggle of running a business without making the expected turnover or if you have suffered successive losses. Men's Health stated that burnout can lead to a poor evaluation in your decision-making. Make sure you are in the right frame of mind before you make any decision.
2. Consider Why You Are Selling Your Business – What Do You Want Out of This?
When you consider why you are thinking about selling your company, you may find your answer. There may be many possibilities including
Oncoming retirement
You have done what you can and need a larger business to help your business grow more
Ready to try something new
Family obligations
It is just time
There are many more reasons than these listed and they apply, then it is time to consider what you want from this sale. Think about the cost. Plan ahead. Comparing the various offers on the table will indicate the right ones to choose from.
In addition to the final amount you sell for, you will need to consider the money to sell your company in the first place. Make sure your company is growing and all your business affairs are in order.
Do you currently have what you need to start in the first place? Do you want to leave your business completely behind or just take a different role?
3. Growth and Stability
Having a successful business in a stable economy is very important when planning to sell your business. In addition to you needing the means to sell, your future buyer wants to know that they can make a profit when they take over or at least that there is some hope to grow.
You do not want the new owners of your business to suffer after they take over. Unfortunately, that can happen when the competitors are dominating your space in the market.
You should sell your business when the market conditions are favorable and stable enough to prove your company's relevance in the coming years. This shows the presence of strong competition and great opportunities to be claimed.
4. Validate the Worth of Your Business
Ascertaining the worth of your business is key to getting a better offer from business acquirers. Not conducting a comprehensive analysis could lead to great loss. It could attract the wrong buyers and it could cause the selling value of your company to decrease.
Seek out a specialized advisory firm with knowledge of market valuations for your industry. Advisory firms will provide specialists that can properly value your assets, earnings, brand dominance, labor quality, and most importantly, profit after taxes.
5. Your Documents Are in Order and Complete
Because the merger and acquisition procedure involves exposing confidential data to buyers, it is sensible to outsource experts from advisory companies than to use your usual accountant. This is most advisable for small businesses that usually invite accountants to prepare statements quarterly or annually. Ensure that you are keeping tax returns and financial statements for a few years before you plan to sell.
6. Consult the People Important to You and Your Business
The people closest to you – friends, family, significant others, assistants – know you even if you keep your work-life at work. They know you are under stress, running your own business. They also know your values as a person and who you have grown into as your business has grown.
Consult with your tax preparer and wealth advisor as they know your personal economics and can help you plan the amount you will need from a transaction to fund your future.
In addition, consulting with a mergers and acquisitions advisor will help you proximate buyers for your business. There are many types of acquirers, so it is important to connect with those who will deliver the outcome you and your business need.
Do Not Wait Too Long
Sometimes an opportune moment will appear and the only factor standing in your way is you. This is a different path that you may not have considered before. It can feel uncomfortable.
But the fact that you are getting an opportunity when you have been thinking about selling your business is hard to find and nearly impossible to find a second time. Try not to be afraid to sell. Being proactive will lead to a higher exit valuation.
Align Business Advisory Services Will Help You
Align Business Advisory Services offers assistance to businesses of all sizes seeking support with mergers and acquisitions. They also provide business strategies, technology advice, management consulting, and other support to ensure your business is operating at its highest capacity when it is time to exit.
Contact Align Business Advisory Service for a professional and stress-free process to sell your business.